Your Safety: Our First Priority
Movement is Freedom
We provide the most accessible, convenient, and safe motorcycle taxi service in Angola
Driver Safety Training
Specialized rigorous Anda Pilot safety training and certification.
GPS Tracking
All Anda rides are monitored in real time by GPS.
Protective Equipment
Anda Pilots and Riders are required to wear helmets as part of our mandatory safety protocols.
Rapid Response
In the event of an emergency, our rapid response team is available 24/7 for drivers and customers.
Passenger Insurance
In the unlikely event of an accident Anda riders are covered by our Safety Coverage Policy.
See it in Action
Booking with Anda
We meet you where you are. You can access our services by using our mobile app, placing a call to our center, or by visiting one of our physical taxi stands.
How It Works
Affordable Rates, Reliable Service
Interested in driving with Anda or booking a ride with our app? Here's how it works, step by step. Learn about our driver requirements and application process, and find out how to use our app to book your next ride.
Become a Driver
Take control of your time and start earning money today with Anda. We'll help you every step of the way.
How to Book a Ride
Download the Anda app from the Google Play store and create an account with your mobile phone number.
The app gives you access to:
Insurance for all rides
Professionally trained drivers
GPS monitoring
Cashless payment
The safest motorcycles on the market
Can't use the mobile app?
No problem. You can also ride with Anda by one of the following methods:
Social Value
Ensuring Safe Rides: The Anda Academy
Our Commitment to Driver Safety. We provide rigorous training, background checks, and continuous monitoring to ensure your safety when you ride with us.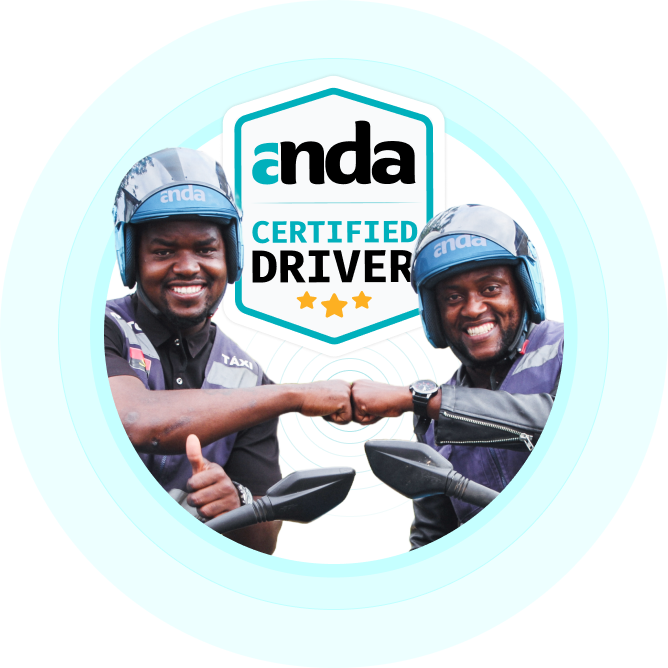 Elevating Motorcycle Taxi Driver Training in Angola
Our commitment to safety has driven us to develop the Anda Academy, the first and only motorcycle taxi driver training academy in Angola.
In the Academy, all drivers take part in a rigorous 60-hour theoretical and practical course as well as training in first-aid.
Vigilant Monitoring and Rapid Response with Anda
Only after passing training and completing a mandatory background check are they allowed to drive.
But we don't stop there. As part of our commitment to keeping you safe when you ride with Anda, we also monitor all rides using GPS technologies and have a rapid response team on hand at all times.
Partners
Anda Capital Partners
Are you ready to become a mobility entrepreneur and join our mission to move Angola?
We empower individuals and companies to partner with us to benefit from the fastest growing motorcycle taxi platform in Angola.
As a partner, earn a fixed fee per month directly in your bank. We take care of the rest.
Get in touch with Anda Capital Partners and start earning with us today.
At Anda We
Complete Support and Seamless Operations with Anda
At Anda, we provide comprehensive support for motorcycle taxi drivers in Angola.
From purchasing the motorcycle to handling all administrative processes, recruitment, training, GPS installation, insurance, legal compliance, and hassle-free monthly payments.
With us, you can focus on delivering excellent service while we take care of the rest.
Buy the Motorcycle
Handle all administrative processes to legalize the motorcycle according to Angolan law
Recruit the driver
Train the driver
Handle all administrative processes to legalize the new Pilot according to the Angolan law as an official motorcycle taxi driver
Install GPS in the motorcycle
Fully insure the motorcycle
Signalize the motorcycle according to Angola Law
Perform all administrative tasks so you receive your fixed fee per month directly in your bank account
Get to Know Us
Our Mission and Values
Anda is a response to the rising congestion, and lack of reliable transportation in major sub-Saharan African cities.
Frequently Asked Questions
Everything you need to know about the anda.